Teachers and staff members who have served the Yankton School District for 1, 5, 10, 15, 20, 25, 30, and 35 years as well as retirees were recognized at a Recognition Social held at Mount Marty University. The following people are recognized for their years of service.
5 Years — Margaret Andera, Jason Clare, Brandon Colpitts, Alanna Davison, Kayle Diefenderfer, Kimberly Fluke, Dionne Hento, Darin Indahl, Cindy Ishmael, Lacey Kindle, Chelsea Law, Sandi Lyons, Scott Lyons, Billie McGill, Grant Nielsen, Angela Prendable, Jonathon Ulmer, Nicole Valnes, and Megan Viereck
10 Years — Andrea Indahl, Jennifer Kirchner, Trey Krier, Jill Larson, Tina Luttrell, Aimee Mors, Ginny Moser, Chad Newland, Melissa Rempfer, and Christine Shudak
15 Years — Michael Benson, Jason Bietz, Jackie Jerke, Jennifer Kapla, Kristi Kokesh, Kayla Loecker, Ana Schurman, Susan Wendte, and Lydia Wentworth
20 Years — Bret Johnson and Jason Savey
25 Years — Kelley Casey, Holly Gordon, Angie Luken, Peggy Marquardt, Sue May, Carey Mitzel, Sheryl Rehurek, Brett Sime, Cindy Somer, and Byron Williams
30 Years — Faydra Christensen, Kellie Holmstrom, Julie Koch, Susan Ray, and Donna Wagner
35 Years – Janet Morrow and Lynn Moser
Retiring Staff
Marc Bies, High School Counselor, 32 years
Janine Broscha, Middle School Teacher, 38 years
Todd Carr, Middle School Teacher, 26 years
Yvonne Huennekens, Beadle School Librarian, 34 years
Allison Moon, Lincoln School Teacher, 36 years
Lisa Opsahl, Stewart School Teacher, 37 years
Doug Pesicka, High School Teacher, 38 years
Cindy Somer, High School Attendance Secretary, 25 years
Donna Wagner, Lincoln School Teacher, 30 years
The finalists for Yankton School District Teacher of the Year were Michelle Andrews, Jill Muth, Melanie Vlasman and Lydia Wentworth. The Yankton Teacher of the Year for 2023 is Michelle Andrews. Farm Credit Services sponsors the Teacher of the Year award.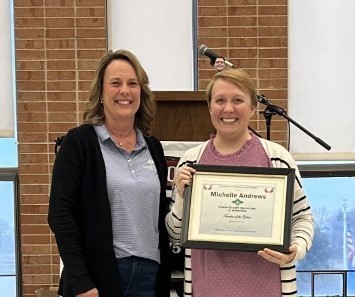 The nominees for the Yankton School District Employee of the Year were Hannah Carda, Barry Hollman, Ryan Olson, Sara Osborne, Beth Pietila, Tracy Robinson, Lori Rust, Paul Sangster III, Cindy Somer, Kate Welter, Rich Wheeler, and Byron Williams. Ryan Olson, Head Custodian at Beadle School was chosen as the 2023 Employee of the Year. Marlow, Woodward and Huff, Prof. LLC, sponsors the Employee of the Year award.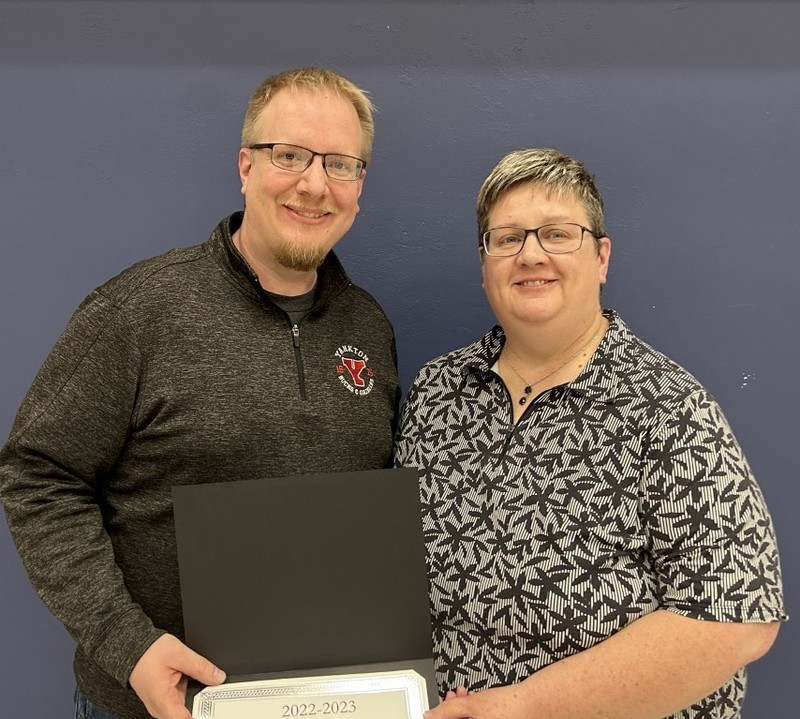 Thank you to Farm Credit Services, Mount Marty University, Marlow, Woodward & Huff, Prof. LLC, and Yankton School District Parent/Teacher Organizations for sponsoring the Yankton School District Recognition Social.