This made the day of a former kindergarten teacher who now also loves teaching 3rd grade! Mrs. Loecker's 3rd graders had a BLAST reading Halloween books to their kindergarten buddies in Mrs. Drotzmann's class. Sweet, new friendships were started today!
✨Lincoln Elementary Outstanding Students of the Week✨
Mrs. Schaeffer's second graders are showing their appreciation to Kopetsky's Ace for our popcorn snack! We munched on popcorn and watched part of a movie during our indoor recess this rainy morning.
Mrs. Harris's Kindergarten Class - Poppin' Up Leaders! Thank you Kopetsky's Ace, the students loved their popcorn!
Mrs. Davison's class discussing responsibility during morning meeting.
Mrs. Roth's Lincoln 5th Grade Class earned a Pop-in Up Leaders Party this week! Thank you ACE Hardware for sponsoring! We love popcorn!
Rain or shine, Lincoln Leaders will keep marching and having fun! 🌦️🎉 #caughtbeingaleader #bucketfillers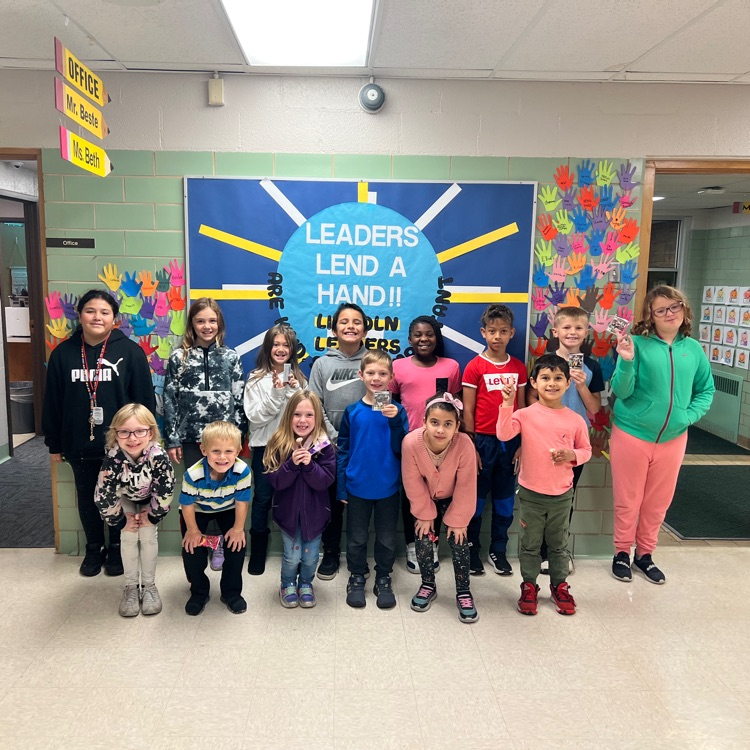 Painting pumpkins in Mrs. DeLange's class was a huge success! The students had a great time.
Dear Parents, Thank you for your cooperation and understanding with today's threat at Yankton High School. These types of incidents put much fear into students, staff, parents, community members, and school administrators. Unless a person is on-site to see the disruption this causes within a school, it is difficult to understand the situation. I can assure you if those responsible for this threat are identified, we will pursue the full extent of the law for prosecution, along with consequences from school if those responsible are students. I appreciate the collaboration we have with our local, state, and federal law enforcement agencies. My trust in these agencies is very high and know we all have the same goal in mind, which is the safety and well-being of our students and staff. The soft lockdown for our elementary schools and Yankton Middle School was lifted after lunch. Yankton High School will remain in a soft lock-down until the end of the school day. I realize my decisions made in situations like this are not agreed upon by all. However, I take my decisions very personally to do my best to keep our kids safe. I would ask that you not use social media as your source of accurate information in situations like today. I will always communicate with you as quickly as I can with accurate information. Your trust is greatly appreciated! Dr. Wayne Kindle, Superintendent
Sometimes we just need to get our wiggles out! Mrs. Loecker's 3rd graders love their daily brain break after lunch.
Make It Stick with Place Value! Mrs. Roth's 5th grade LEAD time students working with whole numbers and decimals to strengthen their number sense!
A huge thanks to the Yankton Bucks Football team and the Sertomans for delivering pumpkins to Lincoln Elementary's K-3rd Grade Students today! Always a great day!
Join us tomorrow night (October 24) from 4:30 - 6:00 at the Yankton Community Library for a cozy evening of learning, laughter, and fall-themed snacks at our K-5 Family Literacy & Math Night! We will also be giving away tickets to Mazing Acres 2023 Fall Festival!
Starting your Monday off with a Bucket Filler drawing! Let's make this day amazing together!🌟🎉 #caughtbeingaleader
Gazelle Volleyball Players earned 5 straight victories this weekend against some west river schools! Next match: Tuesday, Oct. 24th at Tea. Let's keep this streak alive!
Gazelle Varsity Volleyball hosts a tournament this weekend at the YHS Arena and Summit Activities Gym! Games tonight begin at 4:00 and 5:30. Games tomorrow begin at 9am, 10:30, and 12:00! Come support the Gazelle Volleyball Team!
Mrs. Erickson brought some 5th graders down to read, Room on the Broom to Ms. Greene's firsties! They did a fabulous job!
Mrs. Davison's class is utilizing the library for our Enrichment Weather Project. We will be working on this for the next six weeks. Eventually presenting to the class about different types of weather!
Playing instruments is fun! Second grade music students practiced rhythms while accompanying a favorite song "Pumpkin Bones."
Mrs. Erickson working on some fun reading strategies with our Lincoln leaders!